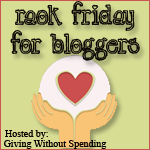 If you'd like to participate, read
this
to get started. It's simple and easy.
The blog I'm choosing for today is
Monkeybox
authored by the "Junkreator". Why do I like reading her blog? Well, she collects all kinds of things. I collect nothing. So maybe I'm living vicariously through her. hehe I enjoy reading about her shopping trips and viewing pictures of what she has bought to add to her collections. Head over and say hello. Check out her sidebar too. She has lots of pictures of items she has acquired.
If your blog was featured today, grab the "blessed by a RAOK" button for your blog.
Your turn! Share a blog with us. :)