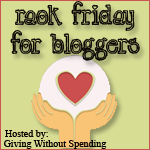 Giving Without Spending is proud to host Random Act of Kindness Fridays for bloggers.
What the heck is it?
RAOK Friday for bloggers is a chance for you to perform a RAOK for another blogger.
What will I do?
It's super simple! Each Friday, you choose a blog that you adore and create a post about it on your blog. Include a short description, why you love it, and don't forget the link! ;) Also, I'll ask that you post a link to your RAOK Friday blog post here using the widget I'll have in place. That way, we can check out other bloggers faves.
What's the purpose?
Most bloggers work really hard on their blogs and many go without much notice. This will help drive traffic to their site and get some attention! In addition, since this blog is all about giving, this is an easy way to do so. It feels great to bless others!
This will start next Friday. In the meantime, I am going to try and get the word out. My goal is to have at least 3 other bloggers participate for the first RAOK Friday event!
I'll be adding buttons to the sidebar for those participating and for the bloggers who are recipients of the RAOK Friday.
Hope you'll join me!