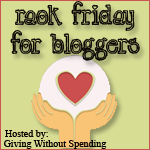 Well, another Friday is upon us. Time for us bloggers to share the love once again. The blog I want to share with you today is
The Stay at Home Mom's Review
. This is a fairly new blog in which Hollie, the author, reviews different products for her readers. I'm enjoying it very much. Please pop over and say "Hi". I know she would be thrilled.
What blog would you like to share today? I always look forward to checking out new blogs!
And...if your blog was listed, feel free to grab the "Blessed by a RAOK" button on the left.